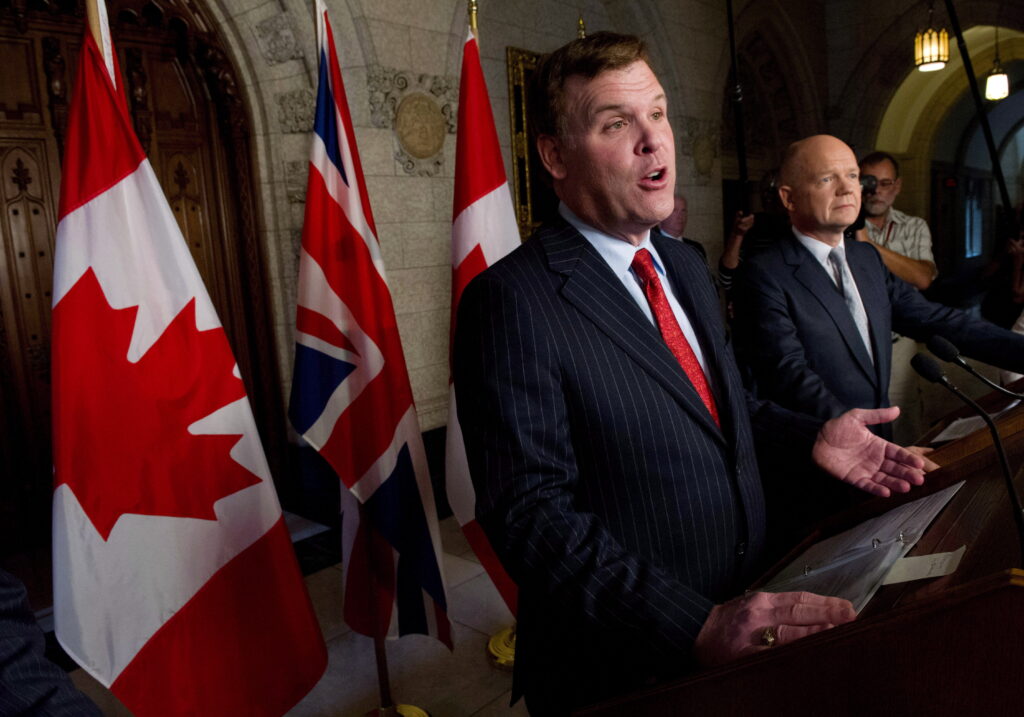 London/Ottawa (dpa) – Canadian Foreign Minister John Baird sought to downplay a deal with Britain to share diplomatic missions abroad amid a chorus of criticism of the plan from opposition parties and former diplomats.
Speaking at a joint press conference with British Foreign Secretary William Hague, Baird called the deal with Britain an
"administrative" agreement. The agreement is expected to involve countries where Britain has diplomatic missions and Canada does not or vice versa.
"This is about increasing Canada's diplomatic reach in a handful of areas where we don't already have a presence," said Baird, who signed the agreement with Hague during the British foreign secretary's visit to Ottawa to discuss British-Canadian relations.
Baird said British-Canadian cooperation in Burma, where a small contingent of Canadian diplomats works at the UK embassy, and Haiti, where British diplomats work in the Canadian embassy, served as examples for such diplomatic cooperation.
"We are not moving to merge all of our embassies and consulates around the world. We are not going to be sharing ambassadors or trade commissioners," Baird said. "Each country will continue to have complete independence on policy and Canadian public servants will always protect and promote Canada's interests and Canada's values. In select locations, this simply allows Canadian diplomats to do their good work faster and at a lower cost to Canadian taxpayers."
Hague pointed to the common history and values shared by the two countries.
"We have stood shoulder to shoulder from the great wars of the last century to fighting terrorists in Afghanistan and supporting  Arab Spring nations like Libya and Syria. We are first cousins," Hague said in a statement.
"So it is natural that we look to link up our embassies with Canada's in places where that suits both countries," he added, also acknowledging that it saves costs.
Hague also denied reports in the British press that the deal with Canada was part of a larger British strategy to  counteract the European Union expansion.
"It's not related to that," Hague said. "Obviously we work very closely with other European foreign services and with the external action services. It's in addition to our work with the European Union. And finding practical ways to cooperate successfully with other nations doesn't in any way diminish the relations within the European Union."
However, the deal with Britain prompted an outcry from Canada's opposition parties and former high-ranking diplomats.
"Under this agreement, Britain will be the de facto face of Canada in the world," Tom Mulcair, leader of the official opposition New Democratic Party, said in the House of Commons. "Canada's foreign policy will be difficult to distinguish from that of the British. It's all very nice to be nostalgic for the great British Empire, but there are limits."
Paul Heinbecker, Canada's former ambassador to the United Nations, said Australia would make a much better international partner if Canada were looking to extend its reach internationally.
"The Australians bring no baggage or very little baggage. They're well represented in Asia; we're well represented in the Americas and there is a natural tradeoff there," Heinbecker said in an interview with the Canadian Broadcasting Corp. "The difficulty with the British is that they bring baggage, they are a former colonial power. Those countries in Africa and Asia who 'enjoyed' British Empire don't celebrate their colonial status very much."
The move comes after a strategic review of Britain's diplomatic services under Hague, which the Foreign Office says is aimed at reducing costs while bringing British diplomacy in line with 21st century requirements.
In a keynote speech in August, Hague called for Britain to shed its "post-colonial guilt" going back to the days of the empire and to seek "new and equal partnerships" with countries unburdened by past history.
Britain is currently seeking to expand its diplomatic presence across Asia, Africa and Latin America in an effort to boost bilateral ties and enhance economic and trade opportunities.
The plan is to deploy an extra 300 diplomatic staff in the "fastest-growing cities and regions" in about 20 countries by 2015.
Ottawa, on the other hand, has been looking for ways to cut its foreign policy expenses. In a series of deficit fighting moves, Prime Minister Stephen Harper introduced cuts of about 170 million Canadian dollars (170,340 US dollars) to Canada's foreign affairs budget in March.