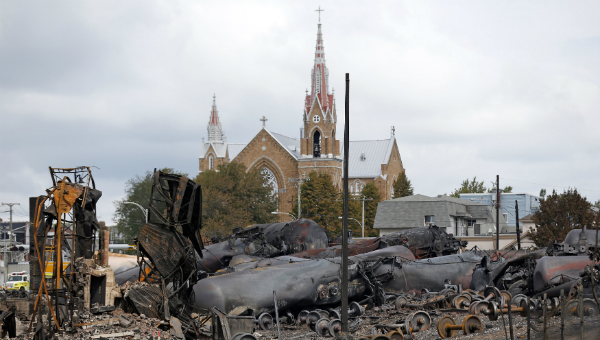 Lac-Megantic, Quebec (dpa) – Maude Verreault owes her life to a cigarette.
The 36-year-old waitress at Musi-Cafe restaurant in central Lac-Megantic was taking a short smoking break last Saturday night when a runaway tanker-train careened into the town and exploded near where she was standing.
"I was on the terrace and I heard an incredibly loud noise," Verreault said, speaking outside an emergency shelter for evacuees. "I turned my head and I saw the train coming at an incredible speed. Then I saw one of the rail cars lift up in the air and I thought to myself: 'Oh, something serious is about to happen.'"
She darted across the street and heard an explosion behind her. The tracks pass just a few meters behind the building that housed the Musi-Cafe.
"I ran as fast as I could, I ran until my back didn't burn anymore, because it was burning hot behind me," Verreault said. "And when I turned around, the downtown was completely afire."
The 73-car runaway train with no driver on board was carrying highly flammable light crude oil from North Dakota for a refinery in New Brunswick.
It derailed at about 1:15 am, causing at least six powerful explosions and an intense fire that levelled about 30 buildings in the heart of the lakeside community about 250 kilometres east of Montreal.
About 2,000 people were forced from their homes as emergency services evacuated central neighbourhoods. On Tuesday, some 1,200 evacuees were allowed to come back to their homes.
Police investigators recovered two more bodies from the rubble, bringing the confirmed death toll to 15. About 40 people are still missing.
Verreault thinks most of them were at Musi-Cafe, one of the most popular hangout spots in the tightly knit community of 6,000.
"There must have been about 40 to 50 people inside, when I went out to smoke," Verreault told dpa as she shared a cigarette with her best friend and fellow survivor, Karine Blanchette.
"There was a live music show and people were singing and dancing."
Musi-Cafe was the place to be, said Blanchette, 35, who also worked there as a waitress.
"It was more than a restaurant, it was like a second home for us. We were like a family, we knew all our customers, they shared their lives with us," she said. "We lost some dear friends."
Blanchette, 35, a part-time actress who was performing in a play that night, said she survived because she couldn't find a parking spot in front of the restaurant, where she had planned to meet friends.
"I saw a big ball of fire and at first I thought it was a factory burning," said Blanchette. "Then my friend called on my cellphone and told me to leave the city immediately. He told me the entire downtown was burning."
Blanchette said her first thought was about her friends inside.
"I kept dialling the number at the restaurant but the line was down," she said.
Later, she managed to join Verreault and despite the danger and the mayhem around them, the two friends decided to go back.
"I couldn't sit home while my friends burned alive," Blanchette said.
The heat was too intense, and they were forced to turn back. Both live beyond the fire zone, but they have gone to the shelter regularly to help out.
As police investigators and forensic scientists sift through the rubble in search of more victims, Blanchette said they have to accept that they'll never see their friends again and must start piecing their lives together.
Verreault said dismantling the railway that cuts through the town would be a good start.
"I want to melt the damn thing and build a memorial to my friends in its place," Verreault said.