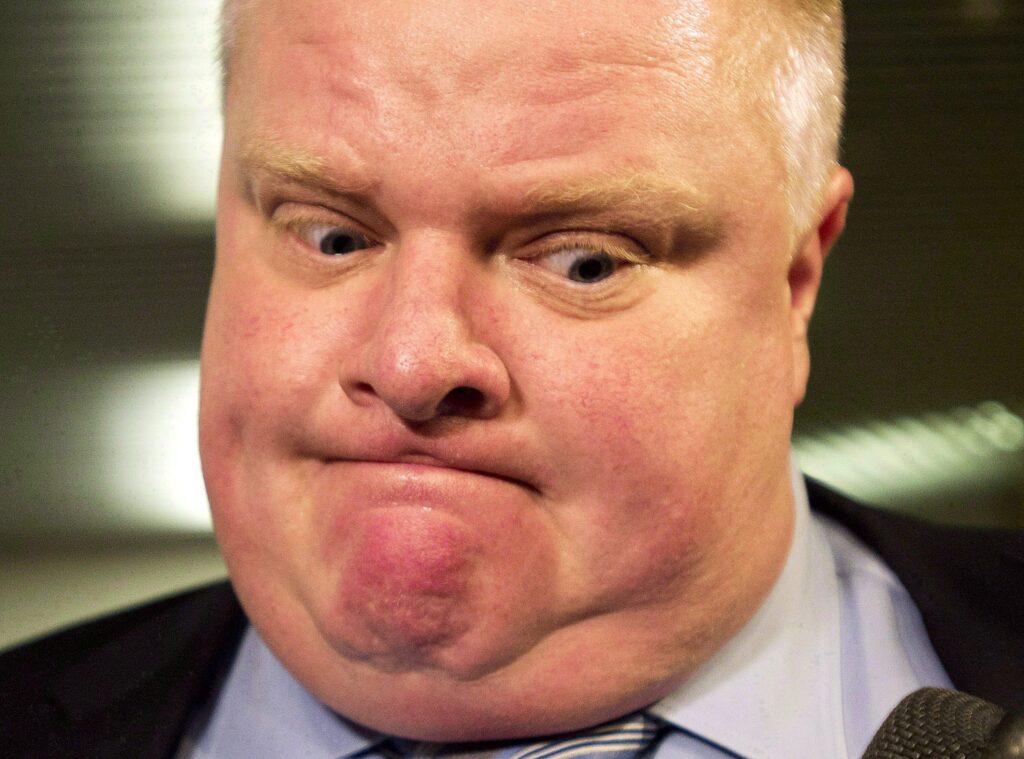 By Levon Sevunts
dpa
November 5, 2013, 6:35 p.m.
MONTREAL Toronto Mayor Rob Ford refused to resign Tuesday despite admitting to crack cocaine use "in drunken stupor" and a growing chorus of voices calling on him to step down.
"For the sake of the taxpayers of this great city, for the sake of the taxpayers, we must get back to work immediately," he told a news conference Tuesday afternoon. "We must keep Toronto moving forward. I was elected to do a job and that's exactly what I'm going to continue doing." But his attempt to put the episode behind him came only after apologizing and after vowing that it would never happen again.
Ford's stunning admission about his use of an illicit narcotic came five months after the U.S. site Gawker and the Toronto Star newspaper reported on the existence of a video of Ford smoking what appeared to be a crack cocaine pipe.
The story gained credibility last week when Toronto Police Chief Bill Blair said that a police investigation into the matter uncovered a video consistent with the one described in the blog Gawker and Toronto Star reports.
Ford called on the police to release the video to the public, but it remains under wraps.
"I want everyone in the city to see this tape. I'd like to see this tape, I don't even recall there being a video. … I want to see the state I was in," Ford said, denying that he is an addict.
But Ford's admission raised immediate responses from colleagues at city hall.
Councilor Jaye Robinson told reporters that Ford does not have even "a shred of credibility," and she wants to see him take a leave of absence.
Toronto Councilor Denzil Minnan-Wong, who is a member of Ford's executive council, agreed, saying, "I think it's time for him to take a break."
Ontario Premier Kathleen Wynne said the controversy surrounding Ford is making it difficult for the city to carry on business.
"We want municipalities to be able to function and there is a huge amount of turmoil at city hall right now," she said.
However, under the law neither his fellow city hall councilors nor the premier can force Ford to resign unless he is formally charged and convicted of a crime. Whether Ford will face formal criminal charges is a big unknown.
Ford, who was elected in 2010, said Tuesday he wanted to run for office again.
And a number of political strategists and public relations specialists say that the beleaguered, scandal-prone mayor has a good chance of winning a second term in 2014.
"I think he could easily get re-elected," Nelson Wiseman, a politics professor at the University of Toronto told CBC.
"The attitude of a lot of people is that, 'Look, I didn't elect this guy because he doesn't sleep around or he doesn't do crack cocaine,'" Wiseman said. "I elected him because I think there's a gravy train at City Hall, and that's what I care about."
A series of public opinion polls conducted by Forum Research since the news of the video broke last Thursday show that support for Ford has actually grown in his core support base, dubbed Ford Nation.
Lorne Bozinoff, president of Forum Research, said it was a classic case of a suburb-versus-downtown divide.
Bozinoff said Ford's core support comes from people in the suburbs who feel alienated and marginalized by downtown elites. And Ford has been a very effective champion of the causes dear to the suburbs, from cutting down public spending to pushing through the extension of Toronto's subway system.
But Rosie DiManno, a well-known columnist for the Toronto Star, said none of that changes her opinion that Ford is a "boor and a fraud." She called on Ford to resign.
"Let go, Rob. Leave us be," she wrote in an impassioned column. "We deserve to be released from this long, cruel, epic tragicomedy."