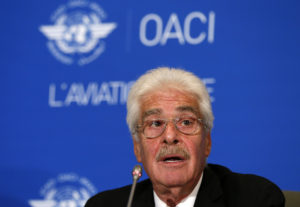 Montreal (dpa) – The UN agency that governs civil aviation said Tuesday it will create a task force to deal with security gaps that led to the downing of Malaysia Airlines flight MH17 over Eastern Ukraine on July 17.
Raymond Benjamin, secretary general of the International Civil Aviation Organization (ICAO), said the tragedy has raised "troubling concerns with respect to civilian aircraft operating to, from and over conflict zones."
He spoke at a press conference at the Montreal headquarters of the group after a meeting with other groups, including the International Air Transport Association (IATA.)
"The world's airlines are angry. Civil aircraft are instruments of peace," said Tony Tyler, the IATA head who also expressed outrage in his comments.
He said that "whatever their national affiliations," all agencies of government and the military must make the lives of innocent people their top priority.
"How can they sit back and watch innocent people threatened this way?" Tyler said.
All 298 people on board the Boeing-777 died in the crash. The US government believes the plane was shot down by a Russian-made surface-to-air missile.
"The tragic shooting-down of MH17 was an attack on the whole air transport industry," Tyler added. It is enshrined in international law that commercial aircraft should not be the target of weapons of war, he said.
The task force will be composed of state and industry experts, Benjamin said. They will work on proposals for devising a system for effective collection and dissemination of security information.
The task force will also work through appropriate UN frameworks to incorporate into international law measures to govern the design, manufacture and deployment of modern anti-aircraft weapons.
Tyler said the airline industry is asking ICAO to address two critical issues.
"The first, and most urgent, is to ensure that governments provide airlines with better information with which to make risk assessments of the various threats they may face," Tyler said.
The second deals with weapons that have the capability to pose a danger to civil aviation. The industry wants the task force to find ways through international law to oblige governments to better control such weapons.
But when asked whether the UN body has the power to compel states to share intelligence with civil aviation authorities, ICAO council president Oulumuyiwa Benard Aliu was frank.
"What power do we have to compel? Not much," Aliu said.
He said the ICAO will convene a high-level safety conference with all 191 member states in February 2015 to discuss these issues.
Benjamin said there was an essential need for information and intelligence that might affect the safety of passengers and crew.
"This is a highly complex and politically sensitive area of international coordination, involving not only civil aviation regulators and procedures but also state national security and intelligence gathering activities," he said.
Benjamin said all parties at the meeting agreed that ICAO has to work with member states and the aviation industry "to ensure the right information reaches the right people at the right time."
Tyler noted that in the case of MH17, airlines had been told that flights above 10,000 metres over Ukraine were safe, and "we now know how wrong that guidance was."
Informing airlines of the threats was essential.
"This is the responsibility of states, there can be no excuses," he said.
Information can be sanitized without compromising methods or sources, he said.